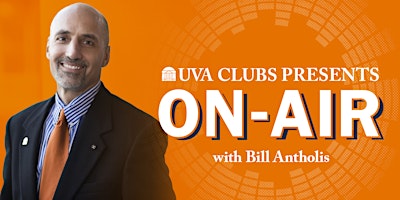 UVA Clubs: On-Air with Bill Antholis
Hosted By UVA Clubs
On-Air with Bill Antholis
The UVA Clubs program and the Miller Center of Public Affairs invite you to join Bill Antholis for a private conference call to discuss "Trump at a Crossroads: Presidential Power, Policies, and the Public in 2020". What can scholarship in presidential history tell us about leading in a crisis, and what can it tell us about a second Trump term or the first term of a replacement? Bill Antholis (CLAS '86), Director and CEO of the Miller Center of Public Affairs, will share his thoughts and will then answer live questions from the audience.
Important Note: Call-in number and passcode will be emailed to registered participants upon registration. You must have these details to access this private call.
Visit this page to listen to past episodes of On-Air with UVA, including episodes with Bob Bruner, Greg Fairchild, Christine Mahoney, Phil Bourne, Melody Barnes, and Dr. Bill Petri.
*Note: These events are being recorded by audio means. By participating, you grant the University of Virginia the right to use your voice in any depiction of these events, including sharing on social media. Please reach out to uvaclubs@virginia.edu if you have any questions.
This event is #open to all alumni, parents, and friends. #DigitalEvent #Faculty