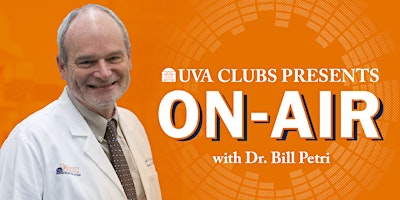 UVA Clubs: On-Air with Dr. Bill Petri
Hosted By UVA Clubs
On-Air with Dr. Bill Petri
The UVA Clubs program and UVA's School of Medicine invite you to join infectious disease expert Dr. Bill Petri (GSAS '80, MED '82, '88) for a private conference call to discuss UVA Health's role in combating COVID-19. Dr. Petri—vice chair for research in the Department of Medicine, Wade Hampton Frost Professor of Medicine, and Professor of Medicine, Microbiology, Immunology and Cancer Biology, and Pathology—is part of a team at the University working to create a vaccine for a potential second generation of the coronavirus. He will share his thoughts about the pandemic and answer live questions from the audience.
Learn more about UVA Health's efforts to combat the COVID-19 crisis by visiting their dedicated COVID-19 response page.
Important Note: Call-in number and passcode will be emailed to registered participants upon registration. You must have these details to access this private call.
Visit this page to listen to past episodes of On-Air with UVA, including episodes with Bob Bruner, Greg Fairchild, Christine Mahoney, Phil Bourne, and Melody Barnes.
This event is #open to all alumni, parents, and friends. #DigitalEvent #Faculty